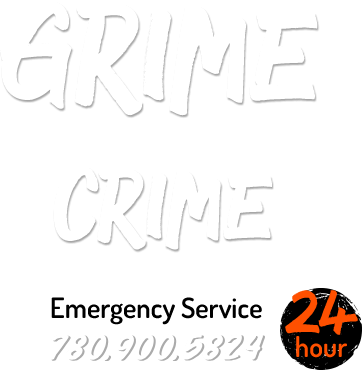 Edmonton's Specialized Biohazard Cleaning & Decontamination Services
Of all scenarios requiring major cleanup, scenes dealing with biohazardous waste are, by far, the most dangerous, and require the immediate services of specialized professionals. Thankfully, the highly-skilled cleaning technicians at Edmonton's Grimebusters Ltd. are specifically trained for these types of high-risk situations, and are well-equipped to offer the following biohazard cleanup and decontamination services:
Blood and Body Fluid Decontamination
Suicide and Homicide Cleanup
Rodent and Bird Feces Decontamination and Cleanup, such as Balcony Cleanups after Pigeons
Drug Scene Cleanup, Decontamination, and Disposal of Sharp Object Waste (i.e. Needles)
Nicotine & Smoke Damage Cleanup and Decontamination
Hoarding Cleanup Services, and Disposal of Pathological Waste Where Applicable
Pre- and Post-Bed Bug Extermination Preparation and Cleanup (Initial Cleaning up of Area to be Exterminated, as well as Disposing of Garbage after Extermination has Occurred)
Staying true to our commitment to getting our hands dirty so you don't have to includes the handling and disposal of biohazardous materials, as well as cleaning up contaminated areas. As a definition, biohazards consist of biological substances that have the potential to pose a serious threat to human health. Biologically hazardous elements that create a risk to health come in many forms, such as:
Human Blood or Blood Products– Infected blood can be spread through insects, such as bed bugs; as well as contaminate crime or trauma scenes.
Human Bodily Fluids – Similar to blood and blood products, bodily fluids can carry countless biohazardous cultures. Areas contaminated with body fluids, and left untreated, are extremely dangerous.
Human or Animal Pathological Waste – This refers to all human or animal tissues, organs, and body parts. Exposure to decomposing tissue, whether infected or not, poses serious health risks.
Animal Waste– The feces and urine of rodents, birds, and even house pets can cause serious reactions in humans through prolonged exposure.
Sharp Object Waste– This type of biological hazard is most common in scenarios where drug use has taken place. Products such as used needles, broken glass pipes, etc. carry the potential to spread serious disease.
Grimebusters Ltd. is available on a 24-hour basis to respond quickly and efficiently whenever the need for biohazard cleanup arises, in order to minimize your exposure to potentially serious health risks. Call us today, and we'll dispatch a specialized team to your door immediately.

Remediation
Services

Cleaning
Services

Flood
Services

Construction
Services